If you've been putting off routine dental care or have been procrastinating about scheduling restorative or orthodontic work that you need done, don't delay any longer. One of the first things that people notice about others is their face. The smile is a focal point of the face. Make the best impression you can by taking care of your teeth and gums.
If your teeth and gums are in excellent shape, congratulations! Visiting Accord Dental and Dr. Ayyubi will help to ensure that they stay that way for many years to come.
If your teeth and gums are a source of pain or embarrassment for you, take the first step toward fixing what's wrong. Call Accord Dental. Our patient care team is friendly, skilled, and non-judgmental. We will work with you to restore your smile to one that you will be proud to show the world.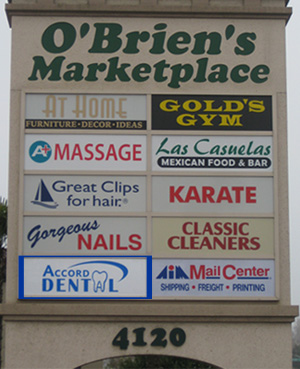 Accord Dental
Dr. M.N Ayyubi, DDS
4120 Dale Road, Suite J-6
Modesto, CA-95356
Phone: 209-809-4444
Office Hours
Monday 9:00am to 6:00pm
Tuesday 9:00am to 6:00pm
Wednesday 9:00am to 6:00pm
Thursday 9:00am to 6:00pm
Friday By appointment only
Closed Saturday and Sunday
---
Email
If you prefer to contact us online, you may e-mail us any questions or comments by filling out the form below. we will respond to your e-mail shortly.
Thank you for your interest!
[contact-form to='[email protected]' subject='Accord Dental Care Form'][contact-field label='Name' type='name' required='1'/][contact-field label='Email' type='email' required='1'/][contact-field label='Phone' type='text'/][contact-field label='Comment' type='textarea' required='1'/][/contact-form]
Map
Call us Today — We'll Give You Reason to Smile
Whether your teeth are causing you discomfort or you simply want to have a more beautiful smile, Accord Dental is your one-stop-shop for all of your dental needs. Dr. Ayyubi and his caring staff will put you at ease every step of the way. Serving patients in and around Modesto, Riverbank, Ceres, Turlock, Ripon, and Salida, we look forward to treating you. Call Accord Dental today at (209) 809-4444 to schedule an appointment.